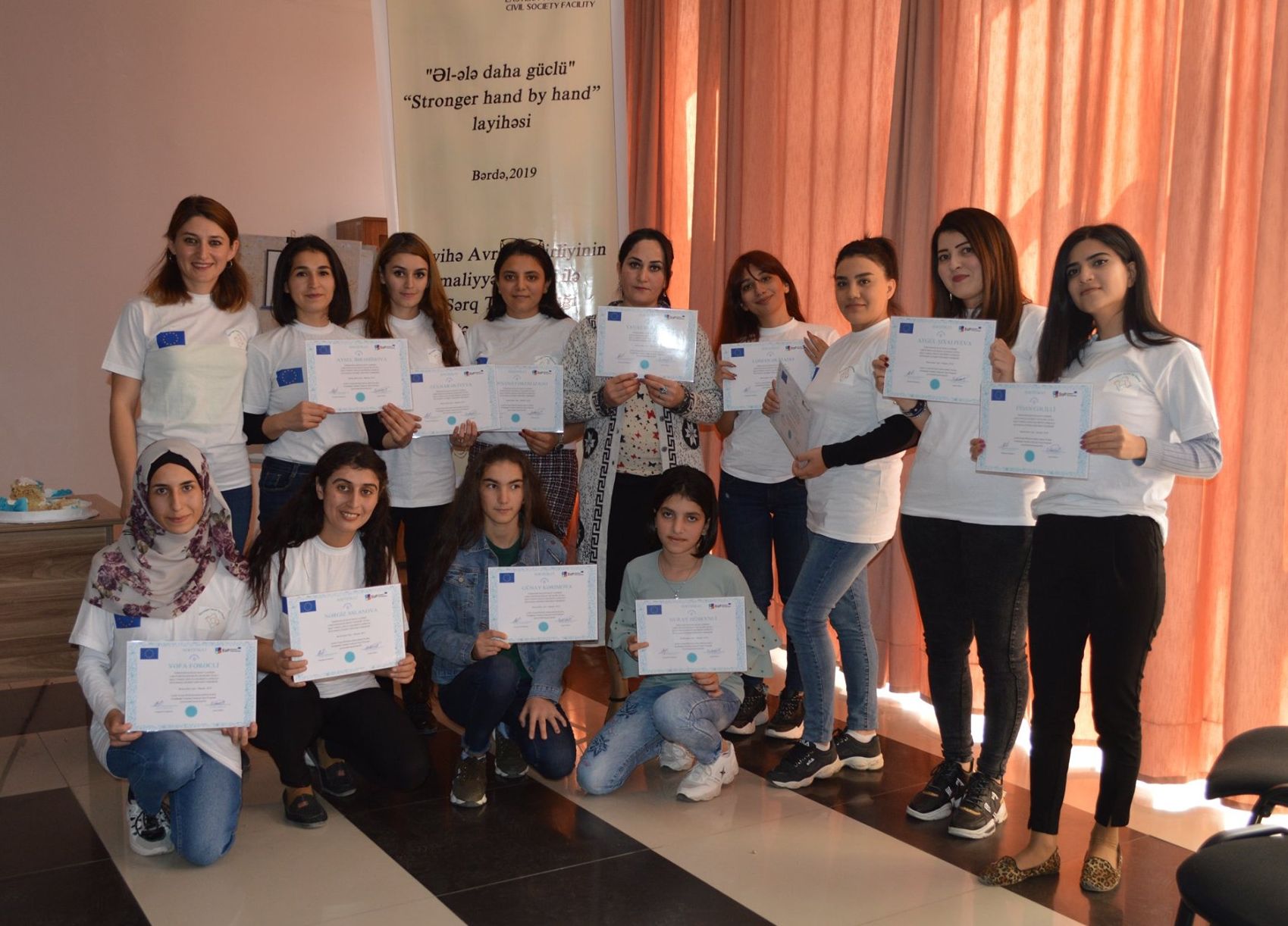 Stronger hand by hand!
The aim of this Fellowship Project was to enhance young women in Barda county, Azerbaijan, by eliminating gender stereotypes, developing young women 's leadership skills, building up their self-confidence and motivating them to participate in the decision-making process.
Ulviyya: "Overall, there is a tendency that women cannot work or pursue their educational career as men do, due to some traditional religious stereotypes. In order to decrease such perception and achieve women empowering, I organized workshops and trainings for 15 girls / women from different villages of Barda county by involving them in this project. Within this project, I want to change at least 15 girls women in a better way in my region Barda."
Six workshops were organised to equip young women in rural areas with new skills in various spheres:
Active citizenship – the participants were mastered to get involved in their local communities and democracy at all levels contributing to building and maintaining a democratic society by teaching skills.
Leadership – knowledge they gained during the workshop helped them to build up and improve their leadership skills.
Soft Skills and Emotional Intelligence – through this workshop participants got information in terms of developing their skills which they can use throughout their life.
Gender equality and breaking stereotypes – this workshop aimed at helping women to understand their rights and stand for them.
Project writing and project management – one of the main aims of this project was to contribute to the communities in terms of
solving local problems by involving women in the process as well as making them more active in order to take an action.
ICT skills – the participants got new basic skills on IT and social media tools.
The final phase of the Project was implementing 5 seed  projects in local communities:
Window – the aim of this project was to widen schoolchildren outlook and explain the significance of education in their lives. Within this project, meetings were organised with schoolchildren and their parents in the IDP (internally displaced people) settlement in
Barda and a day excursion was arranged for the children in Barda city to show Barda's sightseeing and historical places to the children.
Healthy Student – the aim of this project was to build a volleyball stadium in one of the IDP schools in Barda.
I love Sport – within it a football field was built in the boarding school in Barda.
Clean City was implemented in 2 IDP schools in Barda; 2 meetings were organized with schoolchildren to enlighten them about ecological issues and how to take action in terms of solving and reducing ecological pollution
Bright Future  was implemented in Soganverdiler and Jijimly villages of Barda; within it, there were conducted meetings with schoolgirls and rural women to talk about negative effects of child (early) marriages and the importance of the education of girls.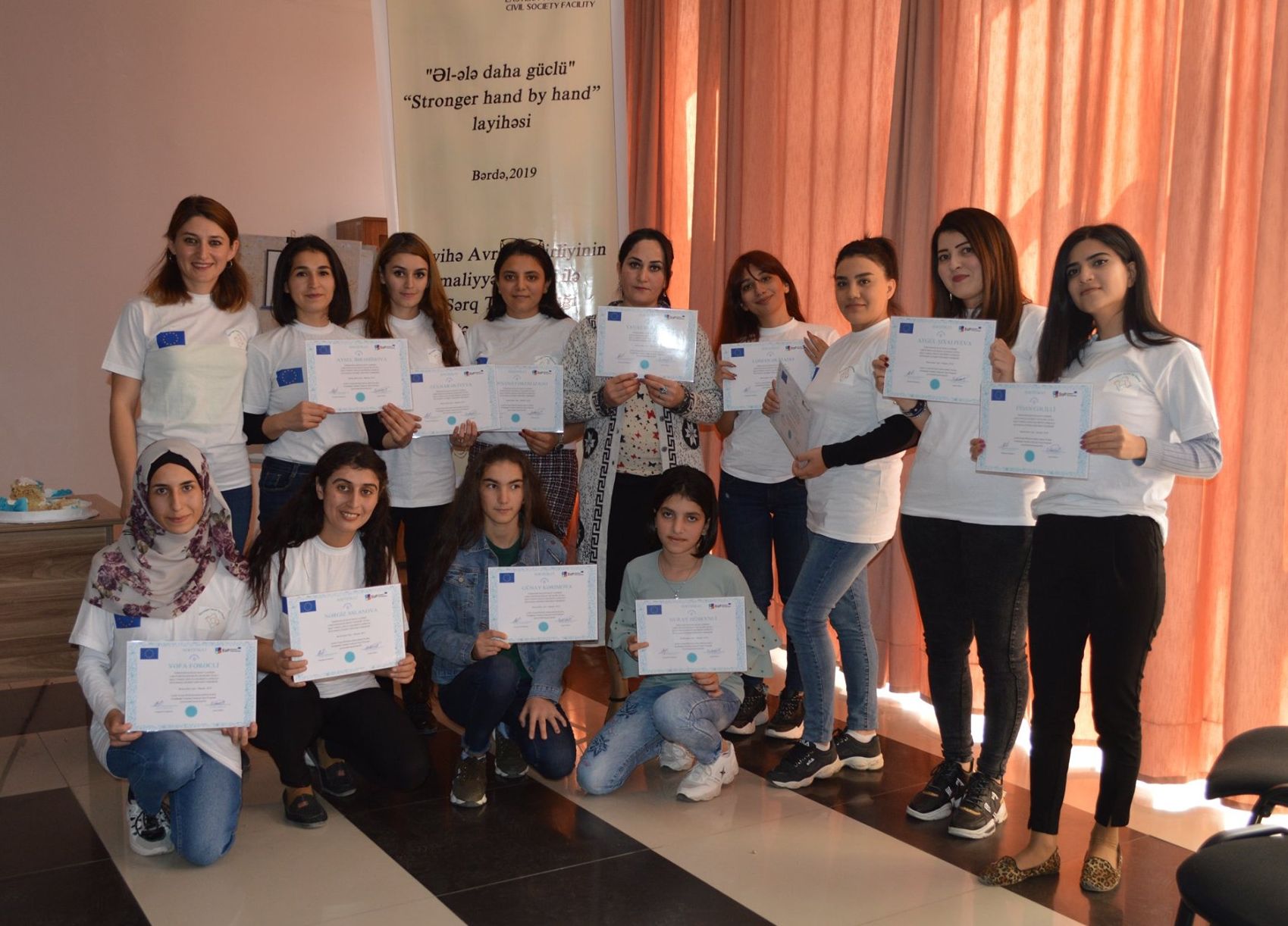 Fellowship Programs
2019
Country
Azerbaijan
Areas of Interest
Awareness raising
Children & youth
Empowering women
Gender equality

Topics
Civic rights
Education
Participatory decision-making

Project duration
June 2019 - November 2019