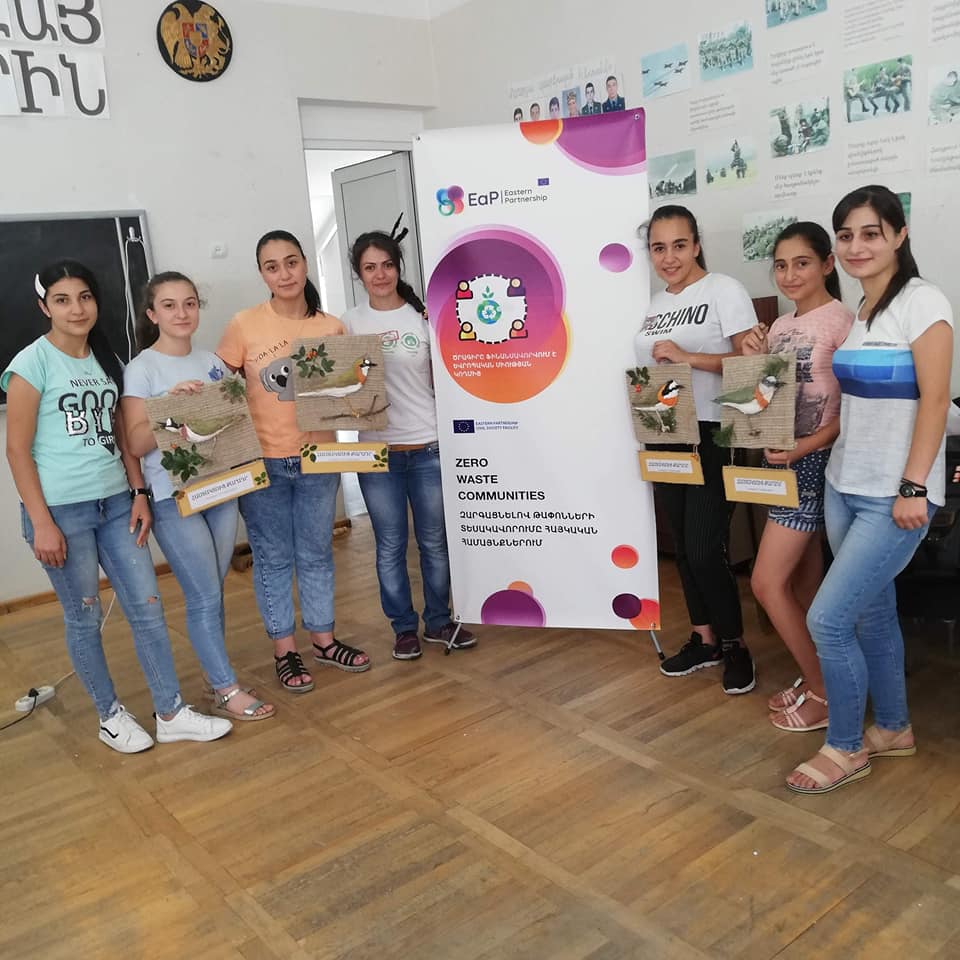 Zero Waste Communities
Zero Waste Communities Project aimed at raising awareness, implementing waste management practices in communities, uniting the community members and including youth in change-making processes.
Vahan Martirosyan: "Recently grassroots movements have been frequent and decisive in Armenia. I decided to drive this public power towards an actual issue in my motherland, which is Waste Management. Up to now, the culture of waste classification in Armenia is on its earliest stages of development and the sector is yet to recover from the emergency situation caused by the challenges of political upheavals".
During the implementation of his project, Vahan has run Experimental eco modules in 4 regions of Armenia – Gyumri, Shirak, Tavush, Gegharkunik and in Yerevan. His team of experts has worked with approximately 250 students, school children, CSOs and municipality representatives. 4 Zero Waste Stations have been installed in four civil society organizations. Over 4 tones of waste have been saved from landfills and sent to recycling during regular waste management events. The largest waste collection event was held in August 2019 in Yerevan with the official permission of the Yerevan Municipality, during which all the districts joined the initiative and almost 3 tones of recyclables were saved from landfills. Clothes and books have been donated during the actions fostering the mindset of "reuse" in communities. Vahan and his partner Eco Aghb NGO have created a bridge between CSOs and small recycling enterprises.
Vahan Martirosyan: "Waste Classification is a pivotal necessity, which is bound to shape a positive image for the country. Creating such a tradition among people can make them become more rational and responsible".
Key figures from the Project:
Experiential Eco Trainings in 4 regions of Armenia: Gyumri, Dilijan, Gegharkunik, Kotayk and in Yerevan .
Collaboration with 5 CSOs and Yerevan Municipality.
150 citizens trained in regions.
100 participants from municipalities, CSOs, universities, and various start-ups in the seminar held in Yerevan.
4 local and 2 international experts invited to the seminar/webinar event which deserved the attention of local media.
4 tones of sorted waste saved from landfills and sent to recycling.
Three of the participants organized their own zero-waste campaigns and were supported by the initiative.
Zero Waste Stations installed in 4 CSOs in regions and in Yerevan.
Integration of waste management into the activities of partner 5 NGOs.
Books and Clothes donated to families in need.
Some schools started recycling, such as the 1 st High School in Yeghvard, Gegharkunik Junior High school, Number 3 Junior High School in Spitak, Shirak region, and others attended by the young participants of the project.
30 volunteers engaged in massive waste management events.
250 participants learned about the literate methods of sorting such as using multicolored bags, reducing the size, recycling on spot and generating less waste.
Check the Zero Waste Communities Facebook page for more information.
English Text Below🔽📣🚩ՈՒրախ ենք Ձեզ ներկայացնել Արևելյան Գործընկերության Քաղաքացիական Հասարակության շրջանակում իրականացված "Համայնքներ՝ առանց թափոնների" ծրագիրը, որն իրականացվեց ՀՀ 4 մարզերում և Երևանում 🇦🇲🇪🇺Եվրոպական Միության աջակցությամբ։ Ծրագրի արդյունքում շուրջ 200 երիտասարդ #Շիրակի, #Տավուշի, #Դիլիջանի, #Կոտայքի մարզերում և #Երևանում ոչ ֆորմալ դասընթացների միջոցով իրազեկվեցին թափոնների ճիշտ կառավարման հնարավորությունների մասին և 4 հասարակական կազմակերպություն ընդգրկեց թափոնների սորտավորումն ու վերամշակումը իրենց գործունեությունում։Հատուկ շնորհակալություն տեղական գործընկեր հասարակական կազմակերպություններին մեզ հյուրընկալելու և թափոնների վերամշակումն իրենց առօրյա գործունեությունում ներառելու համար։#Ecoaghb/#ԷկոԱղբ ՀԿ, YIC Gyumri – Youth Initiative Centre NGO YCCD NGO – Youth Cooperation Center of Dilijan Armenian Progressive Youth Աժդահակ բնապահպանական կենտրոն📣🚩We are super excited to share some highlights of "Zero Waste Communities" project implemented in 5 regions of Armenia within the frames of Eastern Partnership Civil Society Facility Fellowship.Thanks to the 🇦🇲🇪🇺EU support almost 200 young people in 4 regions, #Shirak, #Tavush, #Kotayk, #Gegharkunik and #Yerevan developed literacy on waste management and started sorting/recycling.Special thanks to our partner organizations@ecoaghb YIC Gyumri – Youth Initiative Centre NGO YCCD NGO – Youth Cooperation Center of Dilijan Armenian Progressive Youth Աժդահակ բնապահպանական կենտրոն for hosting our seminars and joining the initiative.#zero #waste #Armenia #EaP #YIC, #YCCD, #APY #Fellowship #Yerevan #Gyumri #Dilijan, #Gegharkunik #Kotayk

Опубліковано Zero Waste Communities Середа, 18 грудня 2019 р.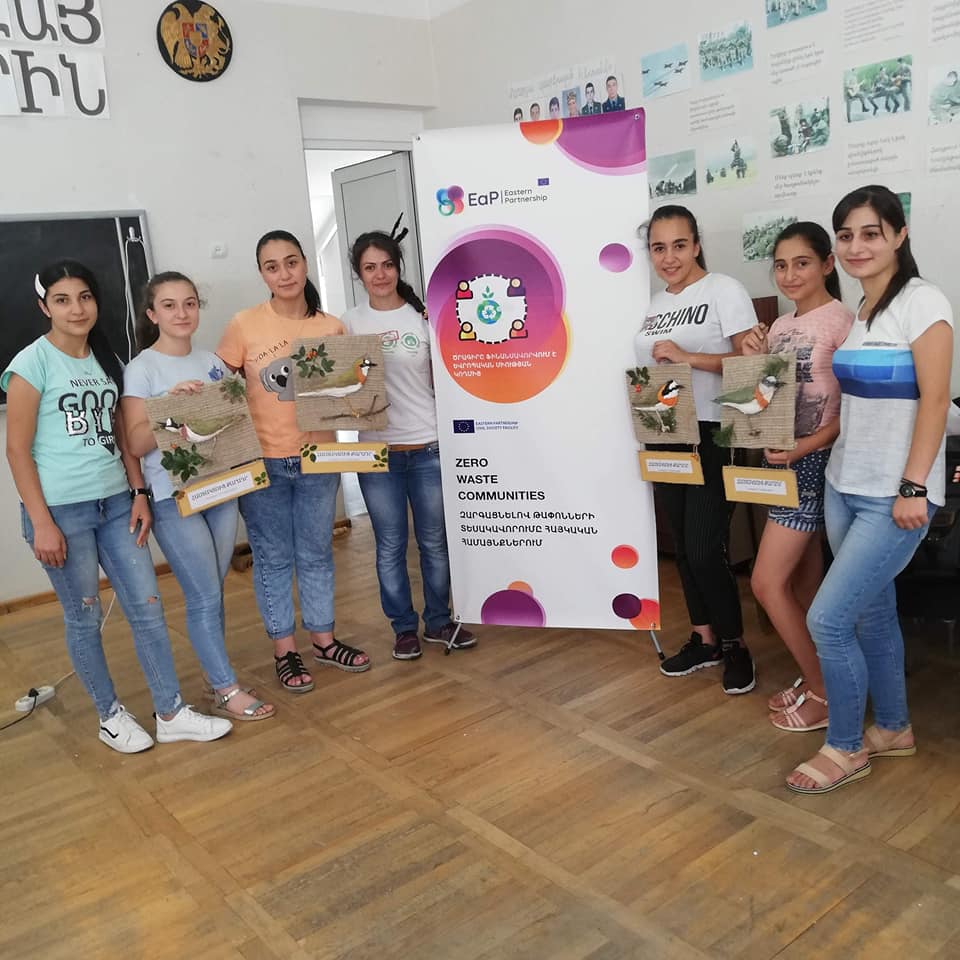 Fellowship Programs
2019
Country
Armenia
Areas of Interest
Advocacy
Awareness raising
Children & youth
CSOs' cooperation

Topics
Energy & Environment
Sustainable development

Project duration
May 2019 - November 2019